PAUL BURKE
Chief Executive Officer 
Paul comes to the Les Twentyman Foundation with an enormous wealth of experience in working on delivering programs for youth and strong expertise in governance. With more than 20 years of experience working in high-pressure policy rich environments delivering key services and economic and social outcomes both in Australia and overseas, including 17 years as a Director and senior member of the Executive Leadership Team at Glen Eira City Council, Paul's dedication to young people along with his knowledge and experiences are invaluable for the foundation.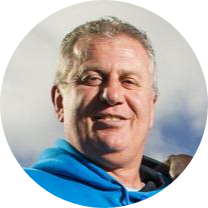 Jim Markovski
Manager – Youth Services
Jim Markovski OAM has over 37 years' extensive knowledge and experience working in the fields of youth, community, recreation and sport. He has developed the highly acclaimed EMBRACE youth leadership personal development program and the successful Redskins / 96ers Basketball Club. He maintains a strong passion and commitment for marginalised and at-risk CALD young people.
Lisa Blackmore
Manager – Operations Manager
Lisa Blackmore has worked in the not-for-profit sector for almost a decade across administration and community engagement roles. She is an experienced events manager and fundraising professional. Lisa is passionate about giving back to the community and works with donors and supporters to attract investment to key programs.
Richard Tregear
Outreach Worker
Richard Tregear started his community service journey as a youth worker. This evolved into a community worker to reflect his work of supporting children, young people, and families. The past 25 years have been spent refining support to young people and families with challenging drug use issues. Also important has been the knowledge of educational options for marginalised teenagers outside mainstream school settings.
Sean Newton
Youth Worker
Sean has been instrumental in the growth of the Positive Futures program in to Primary Schools. Sean's experience in Residential care, therapeutic homes, schools and the corporate world has enabled him to improve social dynamics, parent-teacher relationships and teaching staff capacity to support at-risk students.
Dan Joyce
Youth Worker
Dan has an extensive history in restaurant and café kitchen management, as well as local council youth services and case management. Dan has a strong focus on real-world application of workplace skills, resilience, and team dynamics. With his multitude of skills and networking abilities, he has run a highly successful youth led social enterprise out of Berwick Secondary College.
Maddy Dyson
Youth Worker
Maddy has over 8 years' experience in the youth sector, in the tertiary education and residential care settings. Maddy has extensive experience in case managing disengaged young people to support re-engaging them back into education/training/employment. This included TAFE in class youth work support, outreach, referrals, family work, and liaison with teachers within TAFE and school settings.
Gum Mamur
Youth Worker
Gum Mamur has been part of the Les Twentyman Foundation for more of a decade. Gum first came into contact with us as a basketball player, and later the EMBRACE program. It was identified that Gum had potential as an advocate for South Sudanese young people and children from migrant refugee backgrounds. Gum works in our Youth Service Support Team.

Tekani Perry
Youth Worker
Tekani Perry was participant in the Les Twentyman Foundation's basketball and EMBRACE programs. Inspired by our work and a keen interest in youth justice, Tekani went on to study a Bachelor of Youth Work. She joined the Youth Support Service as a Youth Worker in 2020 and has a particular interest in supporting young people from Pacific Islander backgrounds.
Luzinda Gartmann
Digital Content Officer
Luzinda's experience includes both print and TV journalism with the Seven Network Melbourne and the Herald Sun. She has a Bachelor of Communication (Media Studies) and a Bachelor of Social Science (Majoring in Behaviour Studies). She supports the marketing and social media at the Les Twentyman Foundation.
sandy reay
Facilities & Administration Coordinator
Sandy has a strong background in administration/executive support and has worked as a volunteer for youth support services in Melbourne's West. She has a real passion for encouraging and creating opportunities for young people in our community.
Brianna burnett
Youth Worker
Brianna joins LTF with a committed focus to providing hope and positive futures to young people. Brianna is an outgoing and engaged member of the Positive Futures Team, located in the South-East, providing ongoing support to young people and their families. Brianna has previous experience in Youth Work across employment and education focus and local council youth services.
KATIE HILLARY
Youth Worker
Katie is passionate about working with young people and supporting their engagement in education and social participation. She is currently supporting younger age groups (Grade 5/6) to re-engage students into the classroom and develop positive relationships with their teachers and peers. This is done by exploring factors inside and outside of the school environment that may hinder a young person to thrive in school.